Announcing the launch of Spark® 20M Te-cool™ at SLAS2016
Gain confidence in your bioanalytical data through tighter environmental control
Confident data driven decision-making in drug discovery builds on consistent and reliable results from bioassays. Maintaining a stable temperature is critical for consistency and Te-Cool™ now ensures that your bioassay is run at a specified and stable temperature, even for long periods.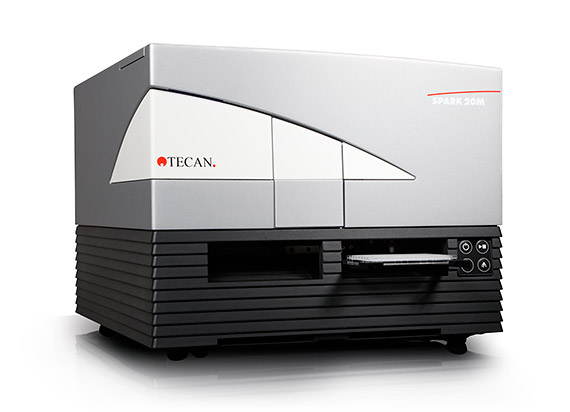 Whether you read enzymatic reactions or study kinetic assays in living organisms, you need precise, controllable temperature control. Enzyme activity increases by 4-8% per °C, and typical temperature fluctuations during an experiment and between experiments can cause deviations in results of up to 30%. Stabilizing the temperature of your assay minimizes data variability and the need for excessive replicates and repeats, which consume time, effort and resources.
Te-Cool brings you:
Increased consistency of your data by improved temperature control
More reproducible data with higher quality between laboratories
Enhanced productivity for biochemical assays
Come by to see Spark® 20M with Te-Cool at the Tecan booth #831 at SLAS2016.
Find out more about Spark 20M.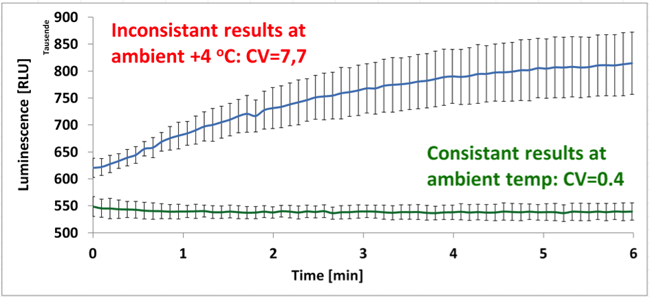 Enzymatic assays are temperature sensitive. A luminescence assay was measured kinetically and best results with lowest CV were obtained when setting Spark 20M at a constant ambient temperature with Te-Cool.