How Tecan tips solve problems associated with smaller samples
Every industry is driving for more cost effective ways to do business. Life Sciences is no exception. One of the recent trends is towards the sampling of smaller volumes. From sample handling to molecular diagnostics, savings can be made through using less reagent per sample – as little as 10 or even 5 microliters.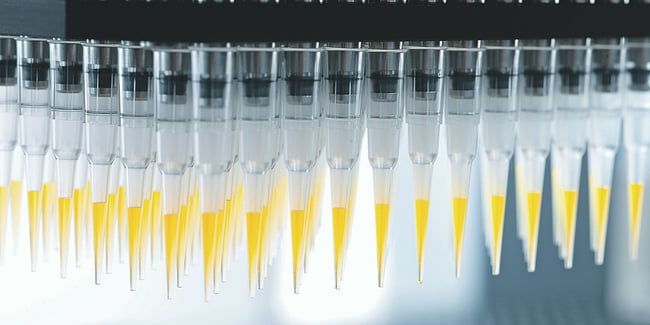 Only Tecan tips get the best out of Tecan systems
Of course there are challenges inherent in this way of working: the margin for error in each assay has a far finer tolerance at these smaller volumes. Dealing with them calls for incredible precision in manufacturing every element of the liquid handling system, and in how those elements combine.
Disposable tips should not be seen as a stand-alone product. Their performance is not guaranteed by the quality of the tip alone, but by how they complement the system as a whole.
Tecan tips are designed with this in mind: to work specifically with Tecan systems, such as EVO and Fluent platforms, as well as Cavro lines, syringe pumps and robots. This crucial difference means no compromise in terms of:
The critical dimensions for fetching and disposing of the tip
The seal with the pipette that enables accurate volumes
The dimensions of the tip itself - so fluid is released smoothly from the tip
The tolerances on the straightness of the tip - so it always dispenses at the appropriate locations
Tested and validated for guaranteed performance
Delivering to such tolerances is no simple matter. It calls for an exceptional level of quality control.
Manufacturing is fully automated in a controlled environment, using state-of-the-art production processes, integrated quality control procedures and premium raw materials.
During production, we carry out an in-line optical inspection on each tip, using a CCD camera and image recognition software. This checks all functional parts to make sure pipetting accuracy and precision is consistent. The process meets several ISO certification requirements, including ISO 9001 and ISO 13485.
Peace of mind whatever your application
Other ways we help you to minimize errors and ensure accuracy are:
Color-coded tip trays. This provides easy recognition of tip volume on the worktable.
A Certificate of Conformity (CoC) with each sales unit. This provides important product information such as part number, lot number, expiration date, and storage conditions.
A choice of two different purity levels. Tecan Standard is targeted towards applications such as ELISA, sample handling and biochemical screening; while Tecan Pure is designed for applications such as molecular diagnostics, forensics, and genomics research.
A greater focus on compatibility
Lots of 3rd party manufacturers make tips to work on Tecan products. But Tecan only makes tips for our products. This means we focus specifically on designing them to get the very best out from our entire liquid handling systems.
Find out more about how our consumables can help you achieve greater consistency and accuracy. Come talk to Tecan at booth #831 at SLAS2016.