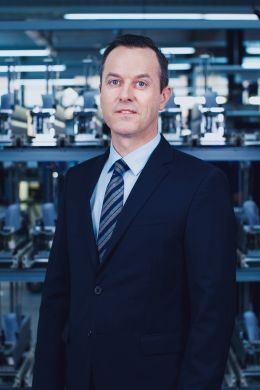 Dr. Klaus Lun
Executive Vice President
Head of the Life Sciences Business division
1972, Italian citizen
Member since joining
Tecan in 2013
Education
Dr. rer. nat. in neurobiology (equiv. Ph.D., University of Heidelberg, Germany)
M.Sc. Biology (University of Tübingen, Germany)
MBA (University of Mannheim, Germany)
Professional background
since 2017
Executive Vice President, Head of Life Sciences Business, Tecan Group
2013 – 2017
Executive Vice President, Head of Corporate Development, Tecan Group
2011 – 2013
Vice President Drug Discovery and Bioresearch and Vice President Global Product Marketing with responsibility for strategy development, positioning and marketing for the entire product portfolio at Molecular Devices Inc., a company belonging to the Danaher Group.
2007 – 2011
Director Business Development at Leica Microsystems, also part of the Danaher Group. Responsibility for corporate mergers, takeovers and licensing.
2002 – 2007
Variety of positions at Amaxa GmbH, now part of the Lonza Group, most recently as a Senior Project Manager with responsibility, among other things, for the development and rollout onto the market of a variety of clinical products.