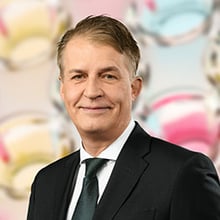 Lars Holmqvist
Member of the Audit Committee
Since 2015, elected until 2017
1959, Swedish citizen
Education
INSEAD, Fontainebleu France
Business Administration (Mid Sweden University, Sweden)
Professional Background
2012 - 2014
Agilent Technology, Inc. President of Life Sciences and Diagnostics Group / Senior Vice President of Agilent
2009 - 2012
Dako Denmark A/S President and CEO
2004 - 2009
Applied Biosystems, Inc., various positions, last poisition Vice President and Executive Member of Applera Corp.
1998 - 2004
MEDITRONIC EUROPE SARL, Various positions, last position Vice President, Vascular & Cardic Surgrey, Western Europe, Member of the European Management, Committee and Global Vascular & Cardiac Surgery Executive Staff
1996 - 1998
Boston Scientific Europe Vice President Vascular EMEA, Member of the Executive Management Group
1993 - 1996
Pharma Hospital Care
1991 - 1993
Becton Dickinson Nordic
1983 - 1987
Lederle Labs. Nordic
Other activities
Lundbeck A/S, Valby, Denmark, member of the board and Member of the Audit Committee; ALK-Abelló A/S, Denmark member of the board and Member of the Remuneration Committee ; Naga UK TopCo Limited, Hertfordshire, UK member oft he board. Senior Advisor to Bain Capital.