Tecan Expert Bio
Introducing Tecan Expert Avinash Peddi



Hello, my name's Avinash and I am looking forward very much to being one of the Tecan Experts at SLAS2016.
Presentation: "The top 5 pitfalls of custom automation" - 12:30 p.m., Tuesday, January 26, Tecan booth 831.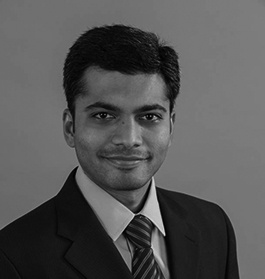 What's my background?
I'd like to tell you a little about myself - and show you how I can use my knowledge of Robotics in the Life Science arena to provide you with a greater understanding at the show.
I achieved a Masters in Electrical and Computer Engineering at The Ohio State University. During that time I worked on an interdisciplinary research programme between two departments: Electrical Engineering and Chemistry. This involved a large element of robotics, which I found fascinating. Immediately after completing my Masters I joined the Integration Group at Tecan and am currently responsible for the custom business segment in North America
What attracted me to Tecan?
I chose Tecan because I was excited about working in lab automation. It's a discipline where you can see the results almost immediately, which is extremely satisfying. Tecan also offered me the right combination of engineering and life sciences – two areas I had become interested in.
The range of work at Tecan is very broad and I enjoy being involved on a wide variety of projects with many customers in different industries. This is especially true within the Integration Group, where we work closely with our customers to understand their needs so we can provide the most appropriate solution.
How can I help you at SLAS2016?
You might well have questions around whether a particular lab process can be automated. If that's the case I can help you look at all the available options. It's likely that automation is possible, but I can help you understand to what degree. It could be the entire process, or just the key phases. You may be able to use existing off-the-shelf technology from us or our partners, or I can explain how Tecan can look at customisation to fit in with your precise needs.
Do I have an area of expertise?
Obviously, with my background, automation and engineering are my main area. However, within these disciplines I have also worked a lot on applications in bio-banking and pain management. I am also particularly interested in finding better automation solutions for complex workflows.
I look forward very much to meeting you, discussing how to solve your challenges and helping you to be empowered by Tecan.