sLAS2016 PRESENTER Interview
Bridging the gap, escaping the silo and learning to listen: an interview with career counselor Dan Eustace
For Dan Eustace, who will be offering a workshop called "The Negotiation Process" at SLAS2016, the event is the highlight of his professional year. Dan has been going to SLAS for the past five years and says "it's the best event I've ever been to."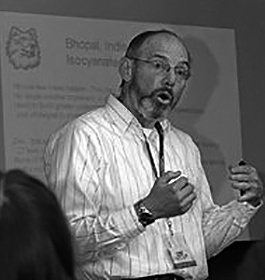 We spoke to Dan about his workshop, why he feels SLAS is so important and his perspective on the future for life sciences.
Could you tell us a little about yourself?
I've been doing career consulting since 1999. For the past seven years I've been an Academic Specialist and Adjunct at the University of Connecticut Chemistry Department offering seminars in Professional Development for Scientists and Engineers. I help students learn how to do things like match their skills to the job market and present themselves in interviews in the best possible way. I also provide career counseling for SLAS.
My background is in applied scientific and technology research, development, manufacturing and management with formal training in physical chemistry. I've worked in several technical fields, from lithium batteries to oil exploration to photographic film, and with managing environmental projects and government compliance.
How would you describe what you do?
I want to help society by enabling bright young scientists to make the leap from the academic to the real world and realize their potential. There's a knowledge gap and I'm doing my best to fill it, partly because no-one else is. I also help people in transition figure out the best way to move forward in their career. Because I know the technical stuff, I understand the world these people live in.
What are the career challenges people in life sciences face?
People training in science are "siloed." If you're in physics you only deal with physicists, and so on. You don't become part of an interdisciplinary team until you get into industry and it's a bit of a shock. Also, academia is more about hypothesis testing than practical outcomes and developing things that may not be fully characterized. I'm doing what I can to change this.
Preparing scientists to function in the real world is becoming more and more important because things are evolving so fast. Technology changes. Governments change. People move around more so they have to get to grips with cultural differences in their workplace. You've got to morph into that next situation.
I focus on the tools that enable you to keep morphing.
We read a lot today about people finding their purpose in life and going for it. What would you say about that?
I'd say you need ten purposes. A career is a process, not an outcome, with many transactions. You should try each one and see how it feels, keeping going until you find the one that feels right for you. I see a career as a continuing process of evolution, especially today. You learn your strengths and articulate them to others, so they can appreciate and understand your contributions.
What will your workshop at SLAS2016 cover?
The full title is "The Negotiation Process - Learn how to motivate others to achieve win-win solutions."I've been giving it for the past couple of months and refining it as I go along so it should be in great shape for SLAS16.
I start with a seven-question quiz, asking questions like "When does negotiation start?", "What do you negotiate for?" and "How do you end a negotiation?". People in my audience answer these questions for themselves and then ask the people around them. We focus on arriving at answers people can really put into practice.
Could you give an example?
Sure. Don't end a conversation with "no." There are little tricks that allow us to relate to the people we're negotiating with at an emotional level. This is especially important to scientists who are trained to follow certain rituals called habits without thinking about them. I create situations for scientists that allow them to think. I also encourage people to watch for the non-verbal signals and, most importantly, to listen.
Apart from your workshop, what will you be doing at SLAS2016?
As a counselor, I act as a roving mentor for selected individuals, helping them learn to network and find the win-win. So, for instance, if I find someone who'd like to start a conversation, I'll ask them who they want to talk to and we'll find the right person for them. It might be a small entrepreneurial company or one of the big boys.
Personally, I'll be looking to find the big story for the coming year. I'll look at the program and probably find six or seven stories that are intriguing right away and I'll follow them up.
Science is all about stories but too often we forget this. We have to learn to tell our stories better.
Why do you think SLAS events are so important?
It's a top notch organization and the people are the best I've worked with. The keynote speakers are outstanding, some of the best in the world. They really evoke the sense of discovery, storytelling and knowledge-sharing that are essential for science.
Here's an example. At SLAS2013, Robert Ballard of the University of Rhode Island gave a great speech about how studying rogue waves could help divers find treasure. It was fascinating.
At a practical level, SLAS is not just science centric but focuses on business as well. There are plenty of dynamic sessions and educational programs that involve the audience and offer practical advice for the real world.
That's great. Thanks Dan.
Interviewing Dan Eustace is an entertaining, thought-provoking experience and he's constantly looking for ways to ground what he's saying in reality. If you're going to SLAS2016, or thinking about it, we'd definitely recommend signing up for "The Negotiation Process."
Over the coming weeks, we'll be interviewing key people involved with SLAS16. Subscribe now to make sure you benefit from great insights like the ones Dan's shared with us.