Cell imaging with Spark 10M at SLAS2016
Be confident in your data from automated live cell-based assays
Setting up live cell-based assays can be laborious, and require microscopic determination of cell numbers that contribute to a signal. Uncertain cell quality can also demand excessive repetition of experiments. Spark 10M meets these challenges to help you generate cell-based data with a minimum of effort and with maximum confidence in your results.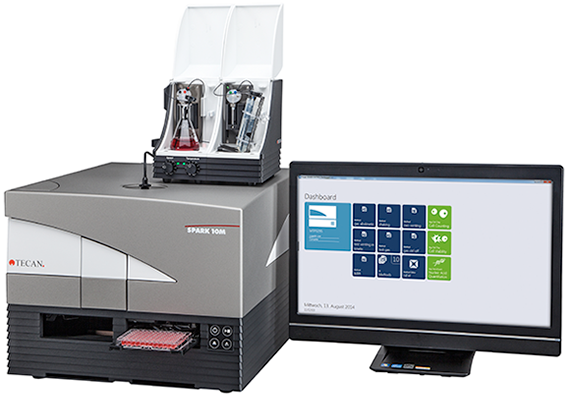 This multimode microplate reader provides robust environmental control, and enables visual checks on cell quality and normalization of data by confluence. Cell confluence can be measured so that you can trigger an action, such as injecting a compound or measuring a well, when a specific confluence rate has been reached. Smart automation minimizes error and frees up time, increasing productivity in your drug discovery process. Spark 10M brings you:
Accelerated cell-based workflows by combining automated cell imaging with microtiter-plate based readout
Increased confidence in data
Easy walkaway automation to free up time for other important research tasks
See Spark 10M in action at Tecan Booth #831 at SLAS2016.
Find out more at the Spark 10M page.