By Yves Wurmitzer
Anatomical pathology labs face ever-increasing pressure to meet demands for enhanced throughput, improved quality and cost savings. Additionally as we saw in the previous article in this series, anatomical pathology has to adapt to disruptive new methods that replace or enhance traditional ones and automation that will play a key role in reducing waste, error, and hands-on time. Employing automation solutions built for traditional methods can result in compromises in compatibility, throughput, and quality, which mean that novel solutions may be required. In this case, it may be time to consider partnering to develop the automated pathology system that delivers the performance a modern anatomical pathology lab needs.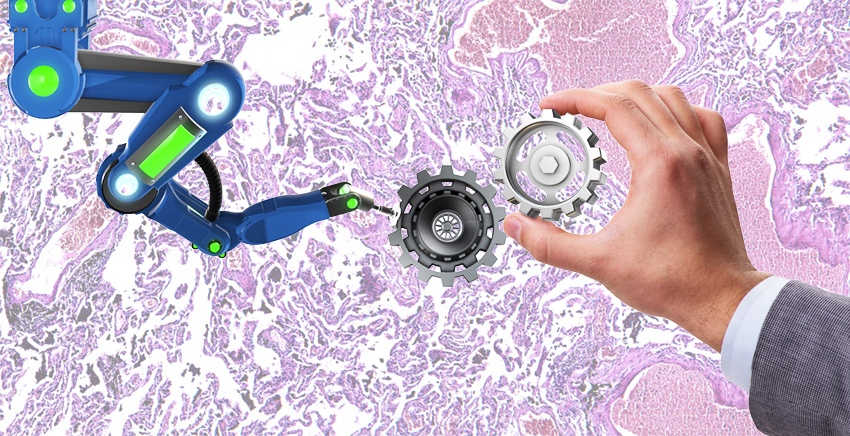 A knowledgeable automation partner can help you automate your anatomical pathology workflows faster and more efficiently.
Disruptive trends and technologies are transforming histopathology labs
The increased demand for pathology services, including growing biopsy numbers, additional testing requirements, and enhanced cancer case reporting has resulted in the introduction of disruptive new technologies, which are compelling anatomical pathology labs to change their working environment and standards as the field becomes more interdisciplinary. Careful planning will be required when designing new facilities and choosing automation solutions in order to improve workflows to deliver timely results with confidence. Here are some questions that need to be answered before you decide on automation solutions for anatomical pathology.
Is the lab ready for automated pathology slide preparation?
The process starts by taking an objective look at the existing infrastructure and ways of working and deciding whether processes are ready for automation.
As Bill Gates said, "The first rule of any technology used in a business is that automation applied to an efficient operation will magnify the efficiency. The second is that automation applied to an inefficient operation will magnify the inefficiency."
There is no point in automating bad workflows, so you may need to rethink the way things are done in your workflow before implementing an automation solution. If necessary, consider applying "lean" principles to identify bottlenecks and opportunities to streamline your processes. For instance, it can be worthwhile to have a different workflow for biopsies used for diagnosis and therapy selection compared to follow up samples used to monitor the success of a specific therapy.
Should we centralize or distribute operations?
An analysis of how to improve efficiency should include weighing up the pros and cons of centralizing pathology operations or running them in parallel in different locations. For example, decentralized processes may be inefficient or impractical especially for the latest methodologies such as Next Generation Sequencing, but centralization can mean big changes in the lab infrastructure, which can be costly. Ensure that key representative staff are involved in this analysis.
Is it time to move to digital pathology?
Given the significant impact imaging has already had on radiology, it is anticipated that digital technology, including imaging, will inevitably be engaged to boost the efficiency of anatomical pathology. Digital pathology is certainly gaining momentum as a proven and essential technology, and automation of sample preparation and analysis is crucial in achieving the standardization and reduced variability that is required. This leads to the question of whether or not to go digital now, go partially digital (e.g. for biopsies to facilitate second opinions) or at least be digital-ready. If this is the case, then it could be time to determine whether your current processes are able to provide sufficient standardization to accommodate the transition to a digital workflow.
How far do we need to go?
What does a lab manager want to achieve in terms of return on investment? Is it a question of increasing the number of cases processed with less hands-on time? Is your focus on reducing cost? Or do you need to speed up turnaround? The results of this analysis will steer the level of integration you need in terms of hardware, software and connectivity with LIMS (laboratory information management systems).
Future-proofing your workflow
Anatomical pathology has seen massive transformative developments, including advances in molecular diagnostics, genomics, proteomics, information technology, and digital imaging. Pressure will increase to streamline pathology lab workflows if the current shortage of pathologists continues together with the expected demands for more diverse testing on less available tissue material.
This means that while it is imperative to address critical automation needs today, it is just as important to evaluate expected needs for tomorrow. Anticipating future needs will steer the design of new workflows and help in choosing appropriate automation solutions that can flex to accommodate emerging applications and innovative new technologies.
How to find a supplier you can rely on – a true partner
It may be possible to construct an automation solution based on off-the-shelf components, or it may be more efficient to outsource a bespoke solution. Whatever your needs, you will greatly benefit from engaging suppliers that can deliver quality, reliability, expertise and support. A valuable supplier should be regarded as a partner who will have in-depth understanding of your application, such as histology and cytology, to help you build a tailored solution that matches your workflow.
Compliance is vital in anatomical pathology, so you will need a partner that understands what is required to meet national and international regulatory requirements, giving you complete confidence that your solution will be fully compliant. A knowledgeable partner can also help you with ongoing compliance needs, including observing new statutory guidelines and recommendations for specimen handling.
Find out more about how Tecan Partnering can help you accelerate automation of anatomical pathology.
About the author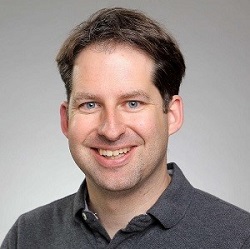 Yves Wurmitzer
Yves Wurmitzer is a Customer Solution Development Manager at Tecan, Switzerland. He works intimately with OEM clients and end-users alike obtaining and clarifying their needs and market demands to enable the successful development of new cutting edge solutions. Yves has many years of experience in product and project management of OEM liquid handling automation with a key focus on innovative software solutions. Yves holds an MSc in Biology of the ETH Zurich and joined Tecan in 2016.
Related articles
Related products