By Maria Liwanag
The syringe pump is the workhorse of any automated liquid handling instrument. A single syringe pump may complete one cycle every second, and as many as 4 million cycles in its lifetime. Keeping your pump syringes and components in top condition will allow them to run smoothly and deliver their best performance. Over time, syringes may start to wear, and therefore volumetric and positional precision and accuracy are likely to decline. Maintenance and replacement will restore its performance.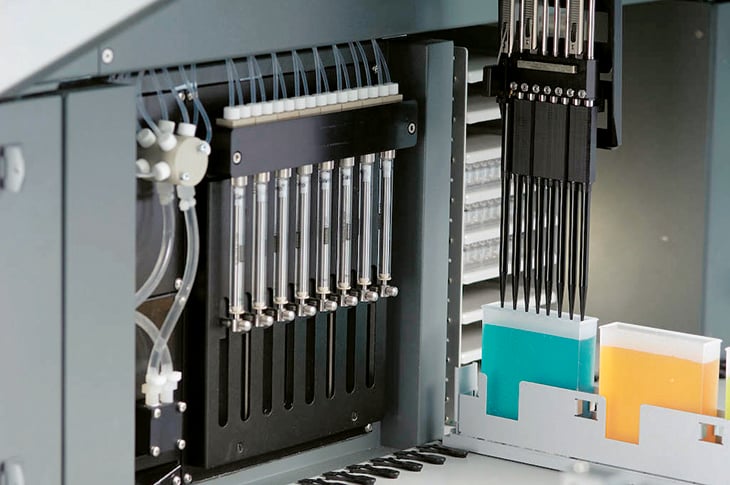 Regardless of which syringe pump you choose, Tecan will provide the support you need for successful installation and maintenance.
Here are 3 points to help ensure the fitness of your liquid handling pump syringes:
1. Use the right tool for the job. Which syringe pump is right for you?
Whether working with high- or low-throughput capacity, next-generation sequencing (NGS), immunoassays, mass spectrometry or lateral flow technology, selecting the correct components is of utmost importance.
For example, in applications such as microfluidics, chromatography, flow cytometry and surface plasmon resonance (SPR) a smooth liquid flow with very low pulsation is required. While a syringe pump is often the obvious choice, it is not always apparent which syringe pump to choose from the many available on the market. Selecting the pump best suited for the job will give you the best performance possible.
Chemical compatibility, fluid viscosity, and dispensing speed are all primary factors that impact smooth operation of the syringe. Applications such as NGS may use multiple tips with very close spacing to achieve high throughput with very small volumes. Other applications may require a very precise physical interface with another device such as liquid chromatography-mass spectrometry (LCMS).
By considering these factors when you choose your liquid handling pump, you can help to minimize unintended wear and degradation. Read more about how to choose the right pump in our blog "Liquid handling pump selection: a guide for lab automation engineers."
2. Keep fluids in their place. How do syringe pump seals work?
Prevent leakage by maintaining your pump seals. In order to know what to watch for, it is important to know how your automated liquid handling pump syringes are constructed. There are likely to be stationary points of contact, for example where the syringe is secured to the valve port. Leaks here can lead to loss of valuable sample or inconsistent pressure. Seals between moving parts such as between the plunger and the barrel are also critical to minimize leakage and ensure accurate and precise dispensing.
Understanding where seals are located, how they work, and understanding proper maintenance requirements will ensure your syringe pumps deliver the performance and lifetime you expect.
3. Importance of procedures. Follow recommended syringe installation and alignment steps.
Proper syringe alignment and installation allows for positional precision and accuracy. It minimizes damage to syringe seals from excessive installation forces, and helps to prevent unintended valve damage.
Before you begin installing or replacing syringes, make sure your syringe supplier has provided you with step-by-step instructions. You will need to know not only how to put the syringes in place, but also how to adjust and check them for proper alignment.
Like any mechanical device with moving parts, liquid handling syringe pumps wear over time. The best way to ensure high performance and a long life are to carefully select your syringe pump features for your application, understand why and when maintenance is required, and ensure you have the instructions you need to perform installations, maintenance, and replacements correctly.
Tecan Cavro syringe pumps are world-renowned for their precision, accuracy and reliability. Our Cavro Syringe Installation Success Guide provides valuable information on the anatomy of Cavro syringes as well as syringe installation and alignment tips to help ensure you get the performance you expect from Tecan.
About the author
Maria Liwanag
Maria Liwanag joined Tecan in 2006, as a manufacturing engineer to the Pump production lines and the service department. In 2011, she joined the Technical Support team. Maria is the Senior Technical Support Representative. In this role, she provides technical support to Tecan's OEM Partners and provides hands-on training to the Technical Support team.
Related products