What's driving China's massive growth in next generation sequencing (NGS) and how are its home-grown companies making the most of it?
In October 2015, during Chinese President Xi Jinping's visit to Britain, he signed a joint declaration between the two countries. Clause 16 of the declaration stated: "China and the UK will work together to learn from each other on healthcare, urbanisation, science and technology, to improve the welfare of their peoples. The two sides will strengthen exchanges in medical and healthcare policies and explore joint research and cooperation to tackle the global health challenges including antimicrobial resistance."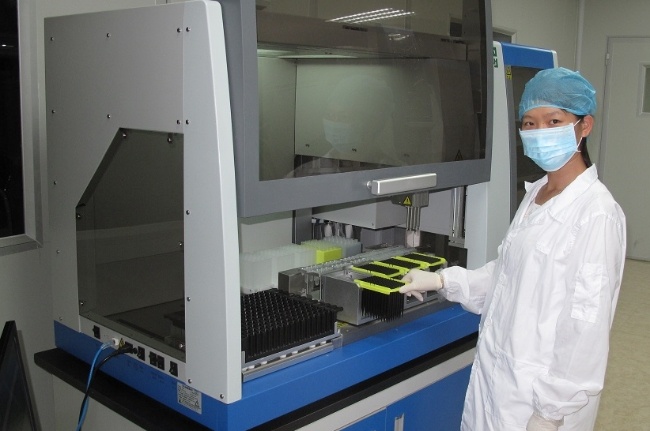 DaAn Gene uses the Cavro ADP to meet their liquid handling needs for high pipetting precision in infection diagnostics.
This is a sign of the massive strides China has made in healthcare over the last few decades. One of the areas in which they are becoming world leaders is In Vitro Diagnosis (IVD). The prowess of China in this area is huge and growing. Much of their home-grown expertise and innovation is being driven by the Beijing Genomics Institute (BGI), a non-government research lab that sequenced the rice genome in 2002, which became a cover story for Science magazine.
In 2013, BGI acquired an American company in Silicon Valley, called Complete Genomics, which helps them provide service in the US. A strong indicator if ever there was one of the growth of Chinese business in advanced life science applications.
Genome sequencing expertise that drives opportunity
One of the many companies following in the footsteps of BGI is DaAn Gene, which is now producing high quality instrumentation for diagnostic purposes. This includes diagnosing infectious diseases by genomic means, a much faster and more accurate method than old fashioned culturing. The result is faster diagnosis of patients, especially for life threatening diseases like MRSA, HBV, TB and fungal infections.
As part of their mission to keep their instrumentation at the cutting edge, DaAn Gene chose to partner with Tecan for air displacement technology. This technique ensures zero contact between the sample and the instrument for absolute contamination-free operation, while maintaining high pipetting precision.
In the last year or so, Chinese laboratories have begun to turn to DNA extraction and PCR (Polymerase Chain Reaction) based assays for infectious disease testing in blood banks, moving on from the more traditional immunoassay (ELISA) techniques. As a result, many are now choosing DaAn Gene instruments with Tecan components.
A fast moving market in molecular diagnostics
China's molecular diagnostics market is expanding fast. This is largely due to the large expanding volume of molecular testing for infectious diseases carried out in China using domestically produced kits, like those from DaAn Gene. These tests account for around three-quarters of China's molecular market.
Tim Orpin, general manager of the Asia Pacific Region for Illumina, speaks about the explosive growth opportunities for genomics: "Things move very quickly in China. Decisions on a national scale can be made relatively fast, especially where technology has the ability to add significant value to society. As a result, the genomics landscape in China is incredibly hot. Today, there's a much stronger focus on using next generation sequencing (NGS) technology in a manner that adds direct value to the population. Where there is a strong value proposition for society, we've seen the technology adopted extremely quickly when compared to uptake in other parts of the world. The widespread use of non-invasive prenatal testing (NIPT) is an excellent example of this."
The GEN Market & Tech Analysis Report predicts that the IVD market in China is growing at between 15 – 30% annually and will reach around $7.1 billion by 2018. This can only indicate that China's molecular testing industry is still in its infant stages and is destined to become a true giant.
To learn more about DaAn Gene, go to: daan.joomcn.com
To find out more about the Tecan Cavro range of air displacement components, visit www.tecan.com/components
Manually related articles
Related articles